Arts Alive Festival
Friday 26th May to Sunday 28th May 2017
Studio Channel Islands' is delighted to present the 4th Arts Alive Festival; a free to attend family-friendly festival in the heart of Old Town Camarillo. Arts Alive will include over 100 artists presenting pop up exhibitions and demonstrations. The main stage, programmed by Sessions at the Loft, will present an exceptional range of live entertainment from around the world.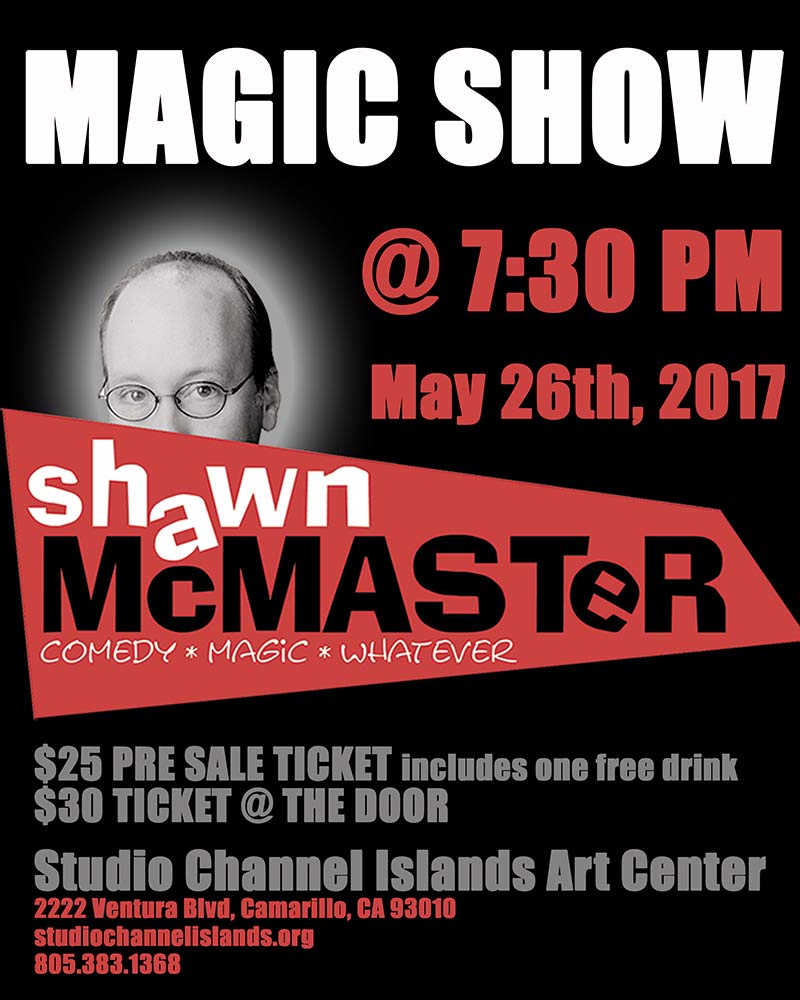 The Festival will be launched by a very special magic comedy performance by Shawn McMaster, a regular performer at Hollywood's' private members club, the Magic Castle. Doors open at 7:30pm and tickets are $25, which includes one free drink.
The entertainment stage goes live at midday on both Saturday and Sunday presenting an exciting program of world music. The headline acts for Saturday include contemporary Cuban music by San Miguel and indie-jazz singer songwriter Erin Bentlage. San Miguel is an exceptional musician and considered one of the best Cuban Tres and guitar player in the country. He received a Cubadisco Awards in 2011 for Best Tresero and in 2014 for Best Musica Tradicional Cubana. Erin Bentlage is an award-winning jazz and indie singer songwriter and one of the most exciting vocal talents in Los Angeles. She will be playing with a quartet of piano, bass, drums and sax.
Saturday's live stage will conclude with 'Journey Along Spiritual Lines', a world premiere performance of spoken word and percussion by legendary drummer Terry Bozzio and poet Todd Griese. Terry Bozzio is a global star, known for drumming with Frank Zappa, Jeff Beck, Missing Persons among others. Terry is known for his solo percussion performances featuring the world's largest drum kit. What is less well known, and never before exhibited, is his work as a visual artist. 'Journey Along Spiritual Lines' is a story of collaboration and exploration. The performance previews the first ever exhibition of Terry Bozzio's enigmatic and expressive visual art in preparation for the 'Edges of Memory' exhibition at the Blackboard Gallery in July.
Sundays' line-up includes Ashley Broder and Hands Ottsen performing outstanding Celtic and Americana music at its best and Kai Nerezo, a breathtaking contemporary flamenco artist. Ashley Broder and Hands Ottsen are a duo of exceptional range and accomplishment. Broder if a composer-instrumentalist, fluent on mandolin, violin, and cello she crafts melodies and sonic textures of haunting beauty. Narezo is a brilliant soloist, his sound reflects a deep reverence for the roots and the soul of traditional flamenco, a love for the modern flamenco, with an American sensibility rooted in jazz-fusion.
The festival will also include two days of children's workshops including music, dance and visual art. There will be food trucks and a beer and wine tent as well as sun shine and great company. Arts Alive is unlike any other festival in Ventura offering entertainment by world class artists within the largest complex of artists' studios in the county.