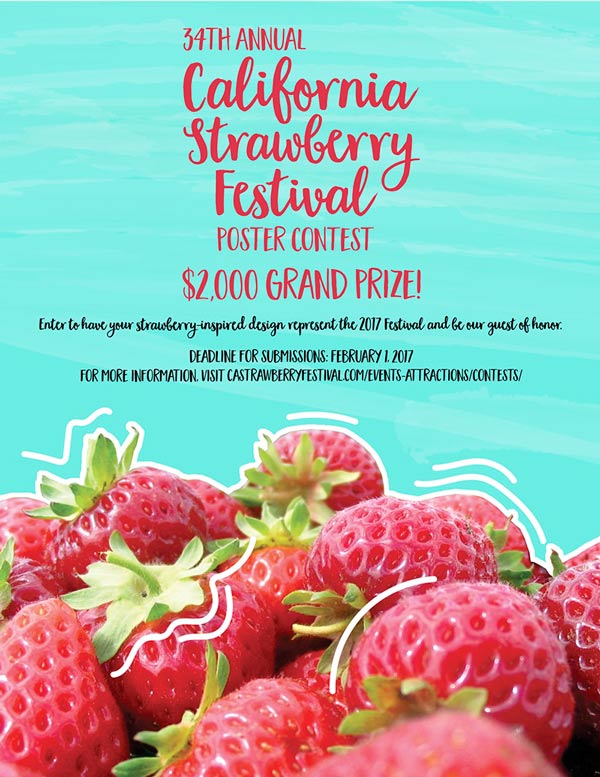 NEW RULES FOR OFFICIAL POSTER CONTEST OF 2017 CALIFORNIA STRAWBERRY FESTIVAL
WITH $2,000 GRAND PRIZE
Art and strawberries can be a fruitful enterprise. Enter the 34th Annual California Strawberry Festival Official Poster Contest where the winner will receive $2,000 and four VIP tickets to the celebration May 20 & 21, 2017.
For the very first time, the contest has been expanded to embrace a variety of mediums — digital, oils, watercolors, inks, photography, and mixed media. The more creative, the better! The new entry deadline is Wednesday, February 1, 2017 in what has become a popular tradition to showcase each season since the prestigious Festival began in 1984.
The poster will be available for purchase event weekend and the colorful design will adorn collectible T-shirts and promotional items to commemorate the 2017 celebration on the newly expanded acreage of Strawberry Meadows at College Park in Oxnard.
The contest is open to all who wish to showcase their artistic expression. Submissions will be viewed by a judging panel looking for creativity and best use of theme while paying tribute to Ventura County's unique landscape. No more than two entry submissions will be accepted for consideration from each artist. No entries accepted from artists who have previously won the grand prize on two occasions. A gallery of the posters from the past 33 years is available for viewing online at: http://strawberry-fest.org/events-attractions/contests/
All original art work for consideration must be 16.5" wide and 17" high, centered and mounted on a black matte board 18.5" wide and 19" high. The finished product must be reproduction compatible and void of any writing, including the date (the year and event logo will be inserted in production). Contact name, address, phone and email should be easily viewed on the back (applications are available for downloading at http://strawberry-fest.org/events-attractions/contests/). Prior to the deadline and without exception, entries can be mailed or hand delivered to the Festival office 1661 Pacific Avenue #15, Oxnard, CA 93033. (805-385-4739).
The winner will be notified by the second week of February. He/she will serve as guest of honor at a press luncheon in Oxnard March 7th when the design is revealed to media, dignitaries, and Festival sponsors. Posters submissions will not be returned and must be picked up from the Festival office any time after the second week of February. The winning original design and all rights of the winning design will become the property of the California Strawberry Festival.
The 34th Annual California Strawberry Festival gets underway May 20 & 21, 2017. Visit castrawberryfestival.org for information or call the information line at 888 288-9242.