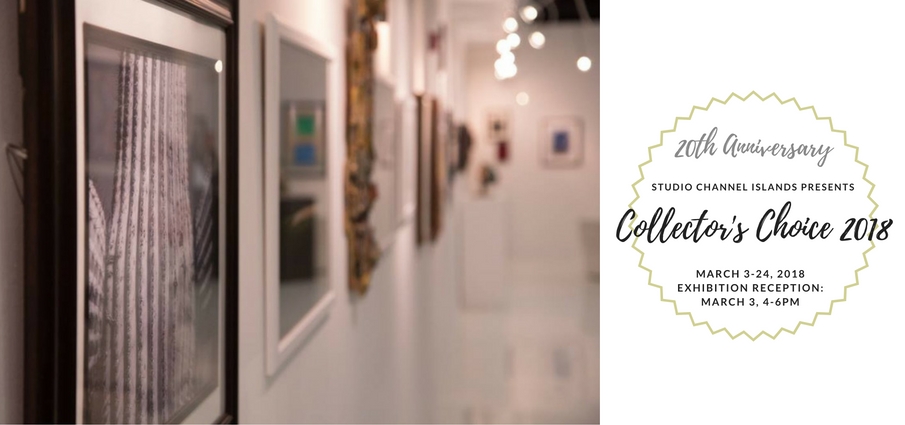 Click here for link to CaFE.
Collectors Choice 2018
Exhibit March 3th-March 24th
Reception March 3th, 4-6pm Free Entry & Parking
Collector Choice March 24th, 6-9pm
Our annual spring fundraising spectacular returns for the fourth year with another chance to get your hands on a masterpiece while supporting Studio Channel Islands. The exhibition will be drawn from donated artworks by contemporary artists from across the country. All proceeds raised will go to support Studio Channel Islands in delivering its mission of engaging audiences in learning about the arts.
The exhibition features work by exciting emerging artists, as well as work by nationally exhibited and award-winning artists. This is a very popular interactive event, where every ticket holder chooses a work to take home straight from the walls of the Gallery.
Juror: TBA
The 1st place award winner will receive an opportunity for a major show in the gallery. All artists whose work is accepted into the exhibition will be invited to a special exhibition launch to meet the Board of Directors, our major supporters, and collectors.
Studio Channel Islands was founded two decades ago by artists for artists. Its mission is to promote and preserve the arts in our community, offering studio space to working artists, providing unique artistic encounters for all ages as well as fostering connections between artists and collectors.
For more information about Studio Channel Islands and the Collectors Choice Fundraiser please visit our webpage: www.StudioChannelislands.org or our Facebook event page:
https://www.facebook.com/Studio-Channel-Islands-156828041032453
Juror's Awards:
First Place: $1,000 PLUS Exhibit Opportunity at The Blackboard Gallery
Second Place: $500
Third Place: $250
People's Choice Award: $500