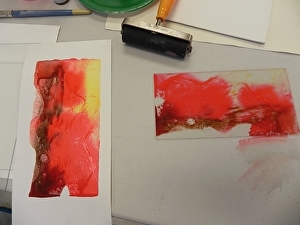 Mary McGill: Saturday March 10th from 1pm to 3pm & Saturday March 31st from 1pm to 3pm
Ceramic Heart Class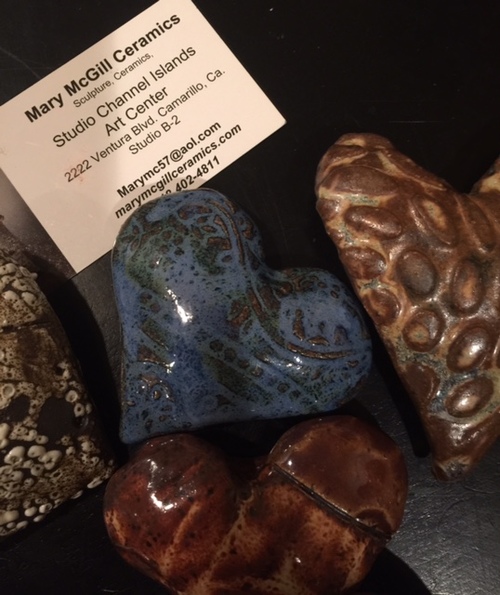 A fun and relaxed workshop making ceramic hearts. No experience necessary. In the first class you will make a selection of ceramic heart shapes. These will be fired and ready to glaze in the second class.
Mary McGill is an Artist in Residence at Studio Channel Islands whose work has been exhibited in major galleries across California.
Price: $120 including materials
Daggi Wallace: Saturday March 10th from 6 to 9pm
Monoprint with pastel class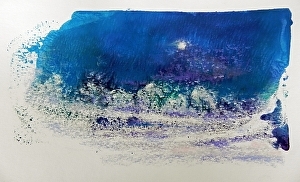 Monoprinting is a fun way to loosen up and not get pressured into tight realism. We apply paint to small sheets of glass, press paper onto it and see the image when we lift the paper. After it dries, we use a variety of materials to enhance whatever image we see in the print: pastels, pencil, ink pens, colored pencil, watercolor pencils.
You will go home with several small works to frame and hang.
Daggi Wallace is an exceptional pastel artist specializing in contemporary realism. She is an Eminent Pastelist of the International Association of Pastel Societies, Master Pastelist of the Pastel Society of America and Signature Member of the Pastel Society of the West Coast and Pastel Society of the Southwest.
Price: $60
Encaustic Art: Thursday 15th March from 6pm to 8pm
Introduction to Hot Wax painting
Encaustic painting is using melted and pigmented beeswax to create exciting, luminous paintings. This exciting class will introduce you to the various techniques that create strikingly beautiful three-dimensional artworks.
The International Encaustic Artists (IEA) supports the growth and advancement of artists at all stages of their careers, and provides opportunities and resources within a global community. The internationally exhibited LA chapter will deliver this class.
Price: $60
Mary-Gail King: Thursday 8th March from 6pm to 8pm
Pouring Acrylic on Board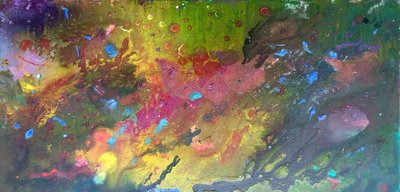 A fun and spontaneous class exploring the drip and pour techniques of abstract expressionism. Choose colors to match your mood and create an artwork which expresses your personality.
Mary-Gail King is an award-winning artist and creativity consultant. She has painted along the Central and Southern California Coasts since 2001, had over 50 solo shows and is included in both corporate and private collections throughout the United States and Europe.
Price: $60
Aria Edry: Wednesday 21st March from 6pm to 9pm
Open Field Movement & Gestural Art workshop by Aria Edry
An introduction to the creation of art through experimental movement. This class will bridge the visual and performing arts in a collaborative and fun environment. This is a rare opportunity to work with international quality artists to explore gesture, rhythm and movement as a part of the creative process 'move freely through guided improvisational games and structures.'
Aria Edry is a choreographer and dance artist whose group and solo work has been presented in New York at The Kitchen, Dia Center for the Arts, American Dance Guild and the New York Fringe Festival and in Boston at the Boston Center for the Arts as well as internationally in Russia, Thailand and India.
Price: $80