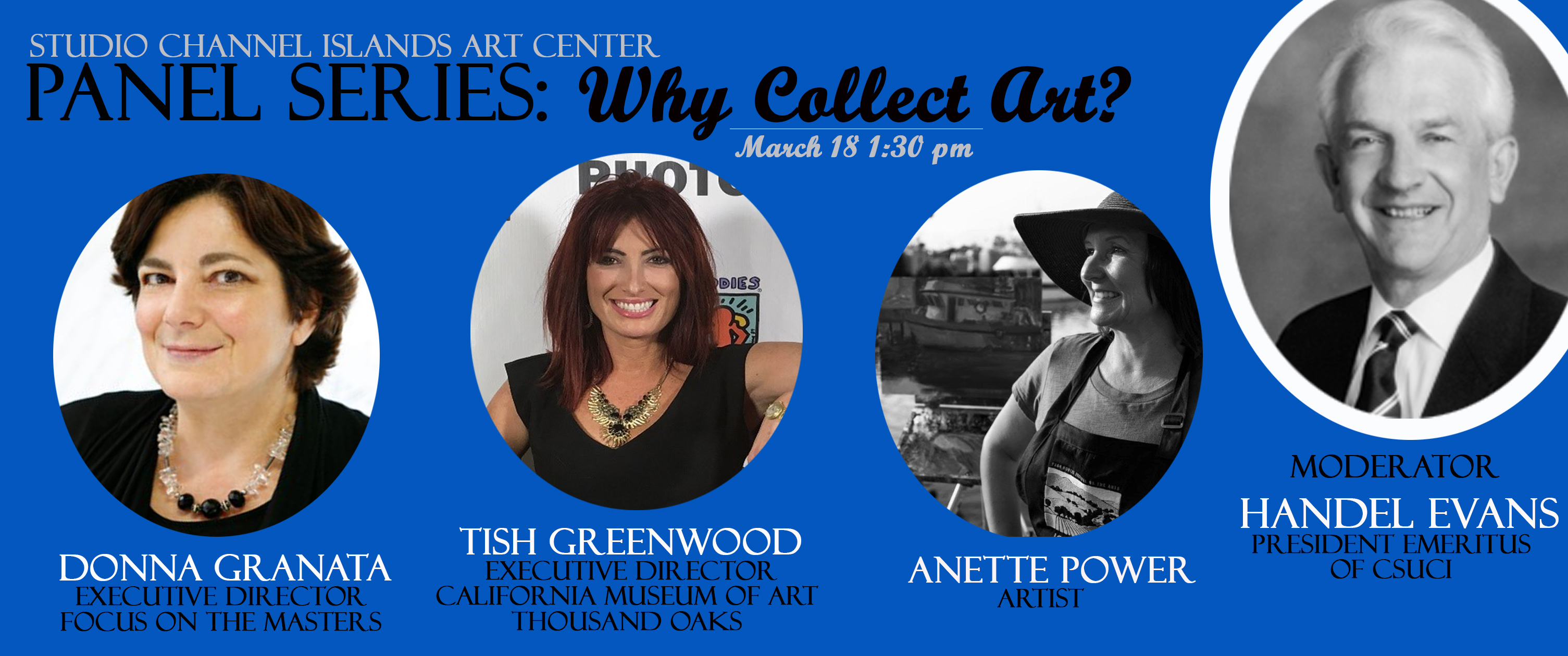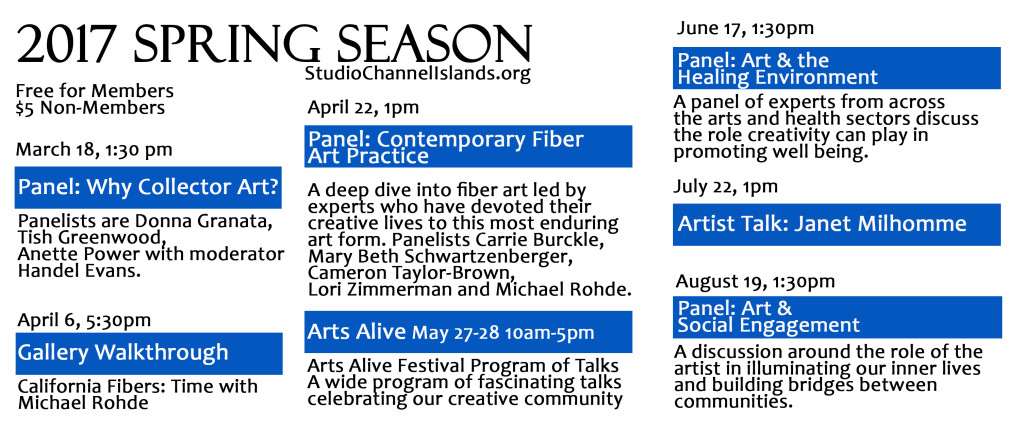 March 18 | 1:30pm
Panel Discussion: Why do we collect art?
A broad discussion reflecting upon why people choose
to invest in art and how art acquires value within our lives.
Panelists
Donna Granata is the Founder and Executive Director of Focus on the Masters (FOTM), a highly respected non-profit educational program documenting contemporary artists. Founded in 1994, the goal of FOTM is to demonstrate the importance of the arts to society by bringing highly accomplished artists to the forefront of the community. The program presents its research to a broad public through photographic exhibitions, Artist Spotlight Interview Series (that is video-taped in front of a live audience) and their Learning To See educational outreach to schools and youth centers. FOTM has been the recipient of numerous awards in recognition of its outstanding contributions to arts education including the 2005 inaugural Ventura Mayor's Art Award – Arts Educator and the 2007 Ventura County Arts Council Art Star Award. Focus on the Masters is recognized as one of the leading arts organizations in the state of California.
Donna received a Bachelor's of Art Degree from the Brooks Institute and a Master of Arts Degree from USC Annenberg in Arts Journalism. She is listed in Marquis Who's Who of American Women
Tish Greenwood, Executive Director, California Museum of Art Thousand Oaks (CMATO) is dedicated to creating cultural spaces where ides are shared and people connect. With the support of the City of Thousand Oaks, CMATO is the new neighbor of the Thousand Oaks Civic Arts Plaza and is in the distinct position to realize its goal of establishing an enduring arts institution that will bring civic pride to the Conejo Valley Region. Tish's professional experience includes positons at the J. Paul Getty Museum, photo l.a. and ArtSlant. Her experience working for the National Endowment for the Arts spurred her recent curatorial project Mass Appeal: The Art of Corita Kent. Tish shares her connoisseurship expertise with artists and collectors through her private advisory firm. Tish received her BA in Art History from John Cabot University, Rome, Italy and her MA in Museum Studies and Contemporary Art from Georgetown University and Sotheby's Institute of Art-New York.
Anette Power
Award-winning artist Anette Power credits her mom, who also paints; and growing up on an island off the Swedish coast for providing a childhood full of creative exploration and a love for the outdoors.
After more than a decade of fine-tuning her sense of light, color and setting a mood, working as a background painter for studios like Disney, Warner Bros., Cartoon Network and Universal, Anette now dedicates her time to painting in Oils.
"I find myself drawn to subject matters with light and color that celebrate life's fleeting moments", says Anette. "I enjoy painting on location immersing myself in the moment and capturing a sense of our personal place in history." In February of 2016 Anette joined Eric Rhoads of PleinAir Magazine, one of 100 artists on a historical trip to Cuba to paint and capture this amazing country before things change. This year Anette was also honored to receive 2 "Best of Show" Awards. One at the Frank Bette Plein Air Event and the other at the Ventura Plein Air Invitational 2016. Anette is a member of CAC, OPA, AIS, LPAPA, SCAPE, BVAA, TAG and The Television Academy and is currently the Program Chair for WVAG
April 6 | 5:30pm Gallery Walkthrough: California Fibers: Time with Michael Rohde
April 22 | 1pm
Artist Talk: Contemporary Fiber Art Practice
A deep dive into fiber art led by experts who have
devoted their creative lives to this most enduring art form. Panelists Carrie Burckle, Michael Rohde, Mary Beth Schwartzenberger, Cameron Taylor-Brown and Lori Zimmerman.
May 27-28
Saturday 10am-5pm
Arts Alive Festival Program of Talks
A wide program of fascinating talks celebrating our
creative community
Artist Talks & Panel Discussion
The creative community at the heart of Studio Channel Islands
presents a regular program of artists talks, panel discussions
and creative events. The program presents a wide range of
opportunities to enter a broad critical debate about the meaning
and application of the arts in the modern world.
June 17 | 1:30pm
Panel Discussion: Art and the Healing Environment
A panel of experts from across the arts and health sector discuss
the role creativity can play in promoting well being.
July 22 | 1pm
Artist Talk: Janet Milhomme
Artists talk guiding the audience through the layers of her artwork.
August 19 | 1:30pm
Art and Social Engagement A discussion around the role of the artist in illuminating
Cost $5
Members $5